Diamond Business Communications is proud to announce that we have been recognized on the 2018 CRN Next-Gen List.
The list recognizes standout IT solution providers who have successfully transformed their businesses to meet the demands of emerging technologies such as cloud computing, IoT (Internet of Things), virtualization, mobility, business analytics and business intelligence. These solution providers, all in business for fewer than 20 years, have adapted to an evolving marketplace with a notable penchant for bringing key technologies to their clients before they become mainstream. Read Press Release.
For Immediate Release:
Diamond Business Communications Recognized on 2018 CRN Next-Gen 250 List
Annual List Recognizes Solution Providers Transforming Business with Emerging Technologies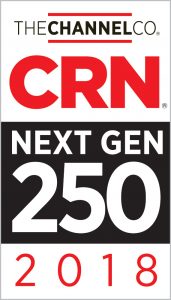 Hamilton, NJ,  November 5, 2018 – Diamond Business Communications, Connecting Your Business With Smarter IT, announced today that CRN®, a brand of The Channel Company, has named Diamond Business Communications to its 2018 Next-Gen 250 list. The annual list identifies IT solution providers who have embraced emerging technologies and are setting the pace for the rest of the channel in their adoption. Those on the list have been able to meet their customers' ever-changing IT needs in leading-edge technologies such as cloud computing, IoT, virtualization, mobility, business analytics and business intelligence.
Diamond Business Communications, is a Technology Managed Services Provider, helping small and medium-sized businesses in the NJ Region. With a strong focus on Cyber Security for their clients, Diamond's technology foresight is a combination of creative thinking, expert views and alternative scenarios to make contributions to strategic planning.
"We are honored to be a part of the 2018 Next-Gen 250, said Cora Park, President of Diamond Business Communications. Our Channel and Brand Vendors are the vital foundation of our technical trainings, compliance implementations, certifications and educational resources.  These partnership accesses relate to the use and development of current and emerging technologies."
"These innovative solution providers have adapted to a rapidly-evolving marketplace and learned to leverage new technology as a competitive advantage," said Bob Skelley, CEO of The Channel Company. "Our 2018 Next-Gen 250 list is comprised of forward-thinking companies who deliver solutions designed to meet an unprecedented set of customer needs. We congratulate each team on its vision and influence in the overall progression of the IT channel."
A sampling of the Next-Gen 250 list will be featured in the December issue of CRN. The complete list will be available online at www.crn.com/nextgen250.

About Diamond Business Communications LLC
Diamond Business Communications is an IT Managed Service Provider helping the small and medium sized business by providing and implementing solutions that keep their company productive, their data safe, and recoverable. The perfect solution for business enterprises that are looking for cost effective IT support.
Follow Diamond Business Communications: @Diamonds_Bc
About the Channel Company
The Channel Company enables breakthrough IT channel performance with our dominant media, engaging events, expert consulting and education, and innovative marketing services and platforms. As the channel catalyst, we connect and empower technology suppliers, solution providers and end users. Backed by more than 30 years of unequaled channel experience, we draw from our deep knowledge to envision innovative new solutions for ever-evolving challenges in the technology marketplace. www.thechannelco.com
Copyright ©2018. CRN is a registered trademark of The Channel Company, LLC.  All rights reserved.
For more information on Diamond Business Communications or to reach Cora Park you can call 609-469-2602 x201, or email Info@DiamondBusinessCommunicaitons.com
the 2018 CRN Next-Gen List.