HAVE YOU HAD ENOUGH?
Are You Tired Of Slow, Unresponsive Network Support That Doesn't Align With Your Business?
Frustrated That You're In Constant Mode Of Putting Out Fires Because Of Technology?
And... At The End Of The Day You Really Dont' Know If You Have A Data Backup And Recovery Plan?
"If This Sounds Like Your Business, Its Time To Make The Call."
Call Us Now 609-469-2602
Cora Park, President CEO
Diamond Business Communications
WHY CALL DIAMOND?

The call to Diamond is made when clients realize they want to eliminate the burden of the time-consuming task of in house IT all together or they need get their current IT Staff out of the day to day maintenance that can hinder their talents for the business growth. Either way, when they partner with Diamond, they've found a partner with the resources, processes, and technical innovations to handle their network. Technology they can count on. Complete with reliabilities and guarantees.
An Outsourced IT Department working 24/7/365 safeguarding your data, making employees productive to keep your business running and ready for growth. All for flat monthly rate.
Diamond Business Communications: trusted computer support and data security for businesses – Let us help you today!
Not ready to call yet?
Not quite ready to call Diamond Business Communications yet? We understand - entrusting your IT support to a new provider is a big step to take. To help you along the way, take a look at our FREE report, which is ready for download right now: What Every Business Owner Must Know About Hiring An Honest, Competent, Responsive And Fairly Priced IT Company.
The report explains everything you need to know about taking the first step to procuring assistance with your IT maintenance, by way of 21 questions that should be at the front of your mind as you consider different firms. Best of all, the report is completely free of charge, with no strings attached. It's essential reading before you settle on a technology company to put your faith in.
Don't delay - download our FREE report today!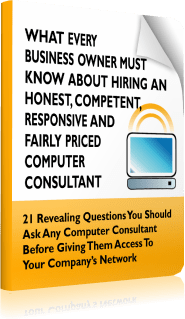 Managed Services
When you need managed services to maintain peak operation in the IT network of your small business, consider us here at Diamond Business Communications. We'll manage all of your IT services for a flat-rate fee so you can focus your efforts on spurring your revenues to grow. Let us give you the peace of mind you deserve with your small business today with Diamond Business Communications' managed services.