Education For Innovation
Get Technology Fit for 2021
When it comes to technology, we are determined to get you fit?  Standard tools and new ones, our education series is designed for the  beginners, the "would love to be business tech smart but don't know how or where to start"  AND the experienced who are too busy to do all the research and testing to know what the NexGen tools are to protect your  business. No worries, we've done the heavy lifting.  To get you started on a roadmap of healthy cyber habits that improve your security fitness.
Each session will be a valued source on innovative technologies dedicated to your business's success and data securities.
Need a reminder? Fill out our Diamond Event Reminder Form and receive updates if we add any new events, repeat events at a dare I say, a restaurant, or more details like, guest speakers, limited seats, deadlines for each event. Don't miss out get reminded!
April 22nd
12 pm - 1 pm
WEBINAR

Security Awareness Training and How does it Work?
Employees ~ The First Line of Defense Be proactive, not reactive
Hackers are constantly improving their tactics to get your unsuspecting employee to open the door to sensitive data. Not only do data breaches happen to small organizations, but often with greater impact. Your employees need Cyber Security Training! Join us to see how this can protect your business. Read more and claim your seat.
 June 18th
12 pm - 1 pm
WEBINAR

Cyber Defense - Security As A Service
A new layer of threat detection. A Must-See Live Demo "How an innocent click begins the infestation of your whole network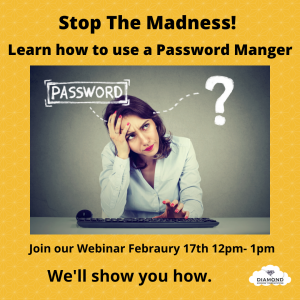 How to Use A Password Manager
Why you (and your employees) should be using a Password Manager. "Enough already it's too simple and low-cost not to implement"