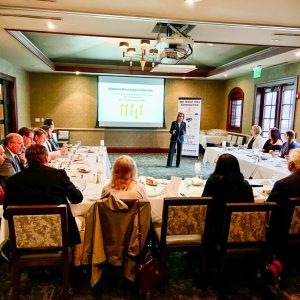 Cora Park, President, and CEO of Diamond Business Communications presented "How to Protect Your Business From A Cyber Attack" to a full house at the Ruth Chris Steak House in Princeton NJ. CEO's, Executive Directors, and Business Owners gathered to learn how to avoid being a sitting duck for cyber criminals. "We now live in a digital world with hybrid working staff, and world events that have occurred over the past years continue to intensify the threats to our communications. Complacency to accept modern technology processes will cost you your business", she cautioned. According to the FBI, Ransomware attacks are becoming more targeted, sophisticated, and costly, even as the overall frequency of attacks remains consistent.
Attendees at the seminar, while enjoying a fabulous lunch, learned that many of the things that worked even 3 years ago are no longer effective. In addition, the attacks are becoming increasingly frequent and vicious, resulting in much greater consequences. Great eye opening content, learning what to do, meeting fellow businesses leaders and enjoying a meal together in person was the tremendous feedback.
If you missed the seminar and would like more information on how to protect your business from a cyber attack or data breach, schedule a discovery call to learn more.